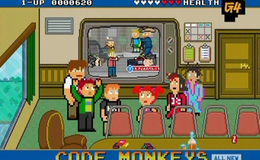 My Pal Jodie is the third episode of the second season of Code Monkeys. It takes place after
Psychological Problems
and before
Dave Gets Boobs
.
Game References
Edit
Death Race and it's creator Howell Ivy are featured.
A black Princess Peach is a part of the cardboard jury.
"Not guilty" is shown as a parody of "Objection!" as featured in the Phoenix Wright series.
Movies/Tv References
Edit
G.I. Joe is mentioned by the "bars."
Wrath of Bong is a reference to Wrath of Khan
Dave claims he bought Wrath of Bong in a Cantina on Tatooine the bar from Star Wars.
John Hinkley became obsessed with the movie Taxi Driver, where Robert DeNiro attempts to assasinate a presidential cantidate. The movie features a young Jodie Foster as an underage prostitute.
The case takes place in the Peope's Court.
Matlock is the lawyer for the prosocution.
Music References
Edit
Wham, George Micheal, Carless Whisper and his partner in Wham are all featured.
George is found in a public restroom in reference to his infamous run in with the law.
Cochren does the Hammer Dance during the trial.
Community content is available under
CC-BY-SA
unless otherwise noted.